The visual album is a reminder that Black power comes from within – not as something that is granted to us by someone else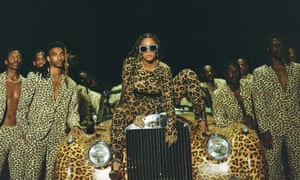 At a time when police can kill an innocent Black woman in her home (and face no criminal charges) and a pandemic is inordinately impacting Black and brown people, the notion of a "Black supremacy" seems astounding.
But that is the hill that Terry Crews is apparently willing to die on. The Brooklyn Nine-Nine actor recently sparked a social media backlash with a series of tweets that seemed to suggest that Black liberation is somehow synonymous with white degradation.
Contrast Beyoncé's new visual album, Black is King. Her project is a breathtaking celebration of Black empowerment. She embodies images of Black regality as a means to combat anti-Black oppression. Black is King has been met with universal praise. Why? Because it affirms, not divides.
To be fair, it is probably worth discussing what Crews is in part trying to address – that is, the policing of Blackness within the Black community and the fact that Blackness is not a monolith. Black people belong to a variety of political parties, have many different skin tones, and inhabit countries all around the world. And no, we don't always agree on things. But then there is the other part of what Crews said, that "defeating white supremacy without white people could create Black supremacy".
First of all, defeating white supremacy without white people has already proven to be impossible, which is one reason why white supremacy is still thriving. Second, defeating white supremacy isn't about forming a new supremacy; it's about uplifting Black people and creating equality for all people of color.
While Black is King draws fans' attention to ubiquitous symbols of decadence – mansions, gold grills and convertibles – she also highlights cultural opulence dating back generations throughout the 90-minute video compilation. Black people prevailing isn't just about having more money, homes and diamonds. It's about understanding the kind of cultural richness that our African ancestors had – goats, cattle horns, kanaga masks and cowrie shells that are all emblems of celestial power and currency.
Black is King is a reminder that Black power comes from within and is our cultural birthright – not something that is granted to us by someone else. It's a hard realization now when so much of the narrative is about how a system built by other people has failed us and what we need from them to be successful.
White allies are necessary to defeat white supremacy, but Black is King emphasizes that they are not fundamental to our self-worth. We don't need to see ourselves through another person's gaze in order to personify what is already ours. "The royalty in you is there," Beyoncé sings. She is not referring to the kind of majesty that is exemplary of making other people feel inferior. Rather, she is pointing to what we've already inherited and what too many have forgotten amid a racist system that spans cinematic image, literature and even statues erected in honor of oppression.
Black is King celebrates the joy of self-ownership and realizing that we already possess what we often look for from others: love, honor and power. That's not a step toward supremacy; it's just fact. And we should all get behind it.
Candice Frederick is a freelance TV and film critic living in New York City
… is just getting started. People all across the world have taken a stand against police violence and racism, and the Guardian stands in solidarity with the struggle for truth, humanity and justice. We believe that our role is to present the facts, report on events first-hand, and provide an open, inclusive platform for the voices of ethnic minorities to be heard by millions.
2020 has clearly shown us that police brutality unfairly targets black people, and we've witnessed the racial inequalities of Covid-19 – from the scale of the loss of life, to the catastrophic economic consequences for individuals and businesses. We're committed to helping tell the stories that need to be told, from people who deserve to be listened to. With your support, we can intensify our ambitions.
You've read in the last eleven months. And you're not alone; millions are flocking to the Guardian for quality news every day. We believe everyone deserves access to factual information, and analysis that has authority and integrity. That's why, unlike many others, we made a choice: to keep Guardian reporting open for all, regardless of where they live or what they can afford to pay.
As an open, independent news organisation we investigate, interrogate and expose the actions of those in power, without fear. With no shareholders or billionaire owner, our journalism is free from political and commercial bias – this makes us different. We can give a voice to the oppressed and neglected, and stand in solidarity with those who are calling for a fairer future. With your help we can make a difference.
We're determined to provide journalism that helps each of us better understand the world, and take actions that challenge, unite, and inspire change – in times of crisis and beyond. Our work would not be possible without our readers, who now support our work from 180 countries around the world.