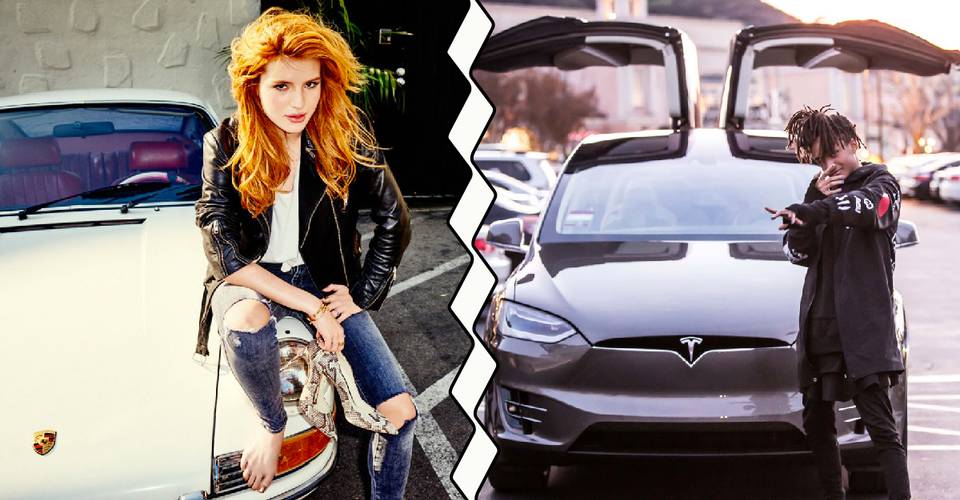 Nothing can be more frustrating in life than seeing kids younger than you flaunting their riches whether on television, social media, or some gossip entertainment site. Sometimes, you don't even follow their lives, but somehow, trending news about their lifestyles seem to find their way into our own lives–so intrusive, by the way–but it does something in us. Either you turn green with envy, or you're motivated that you still can reach your
dream, even if it's just a teensy little bit. But you've tasted it.
Some of the wealthiest kids actually earn from their own sweat and brains, but others, well… mom and dad or great, great grandpa had a hand in it. But somewhere along the line, their lives became ours. In fact, there's a Rich Kids club, a global one, exclusively for filthy rich kids whose envious fortunes are flaunted all over Instagram and Snapchat without compromising the wow factor. These kids get anything and everything they want in this world, without necessarily having to work for it, and they just keep getting richer! While the majority of us are busy bragging in our beaters and sleepers, they're collecting supercars and branded wardrobes, plus touring more destinations all over the world. While we wait for life to roll the dice in our favor, it's much easier to envy and woe ourselves with the lifestyles of the wealthiest lot around us. Check out 16 pics of the richest kids of the USA and their sweet rides.
16

Willow Smith
Willow is the daughter of Hollywood celebrity power couple Will Smith and Jada Pinkett. No sooner that she had been born did she become a household name, what with her successful career in the music industry, unlike her brother Jaden who took his father's acting genes. Willow released her smash hit Whip My Hair about seven years ago, and her net worth currently stands at an estimated $5 million, which she earned by the age of 14–way before she could even drive. When she's not doing music, she's modeling or enjoying her life. This girl rides in style! She's totally proven to the world what a baller she is when she debuted an amazing brand new matte-black Porsche Cayenne Turbo worth a swashbuckling $120,000—truly not a bad choice for a first-time driver. She's proven that she can make her own way in the entertainment world.
15

Reginae Carter
This 19-year-old daughter of Dwayne Michael Carter Jr., aka Lil Wayne, and Antonia Wright or Toya Carter—an American actress, rapper, and businesswoman–has much to brag about. Her life is one that most girls growing up in their teens would love to have any day. She seems to be spoiled rotten, as her dad, rapper Lil Wayne, keeps surprising her with one car after another.
Her Sweet Sixteen is where the car gifts started to pour in as he got her a black and white Ferrari plus a BMW as an extra.
Then, she turned 17, just a year later, and she got her third car–a red Range Rover, which apparently she's not feeling anymore–what? Talk about being the epitome of rap royalty.
14

Tiffany Trump
Tiffany may not be the favorite of her father, President Donald Trump, among the brood, but she still has her way around with making good money and living a comfortable lifestyle. She's the daughter of President Trump and Marla Maples–a TV personality—whom Trump was married to from 1993 to 1997. Though they were married, she says she raised their daughter alone, as Trump was too busy, even though he loved them a lot and provided for them. Tiffany had a music career known for her catchy pop song "Like a Bird" when she was just 17, but she's also a social media star with a growing fan base. She drives a black Audi S5, which she recently posted on Twitter while at the auto dealer's shop.
13

Chloe Moretz
This is another girl who's making it in the entertainment industry at just 21 years of age. She's appeared and/or starred in television shows like Desperate Housewives, 30 Rock, The Guardian, and much more. She's the daughter of Teri Duke Moretz and McCoy Lee Moretz, a plastic surgeon and a nurse respectively, but they're now divorced. This actress and model began her acting and filming career at just seven years of age, so she has a tidy sum of cash to her name, plus she's dating Brooklyn Beckham, the eldest child of former Man-United sensation David Beckham and Victoria Beckham. She bought her first car about two years ago. Not purchasing what most teens would get, she drives a Mercedes GLE 450 these days. She was chosen as an ambassador for Mercedes-Benz, so naturally, she'd be driving one, right?
12

Gigi Hadid
Jelena Noura Hadid, aka Gigi Hadid, is a model by profession, signed to IMG Models, and BFFs with Kylie Jenner. She's the daughter to real estate mogul Mohamed Hadid and former model Yolanda Hadid, who was also a model and is best known for her role in the reality TV show The Real Housewives of Beverly Hills. Her two younger sibs, Bella and Anwar, are also models, but she has older paternal stepsisters, Marielle and Alana.
Gigi was chauffeured in a white Rolls-Royce to the 2016 Much Music Video Awards—remember?
The one where she wore a red power suit? Anyway, her daily driver is a silver Range Rover, which with Kylie Jenners, he's been spotted driving on many occasions.
11

Cody Simpson
Cody is an Australian born singer, songwriter, musician, dancer, and actor, previously signed to Atlantic Records, but today, he has his own record label, Coast House Records. The "Waiting for the Tide" is a singer and ex-boyfriend of Gigi Hadid—an American model–and he has nothing but nice things to say about her. Cody is the son of Brad and Angie Simpson and also has two younger siblings, Tom and Alli. He's also a fish in the water, what with his swimming accolades having won medals in various championships. Performing popular hits by guys like Justin Timberlake and The Jackson 5, he started recording songs in his bedroom on YouTube, and that saw him get discovered by Shawn Campbell. The 21-year-old singer drives a candy-red Alfa Romeo 4c-12.
10

Bella Thorne
Annabella Avery Thorne, popularly known to us as Bella Thorne, is a 21-year-old actress and singer who played in popular films such as My Own Worst Enemy, Big Love, and Shake It Up, among others. She's the daughter of Tamara Thorne and Delancey Thorne (though her dad died in a traffic accident), and she has three elder sibs who are also actors. Her reason for getting into acting was to support her family, as her mom raised the four kids alone, so she thought she'd help out, and this saw her get into the club of the rich kids of USA. She briefly dated Lil Peep, who later died. Her Instagram post of a new Porsche Panamera complete with a bow left us wondering who got this for her as a gift. Either way, she owns one!
9

Elle Fanning
Elle is the younger sister of Dakota Fanning, and the latter's acting talent seems to have rubbed off on her baby sister.
Elle has made a name for herself in Hollywood, as by the time she was 16, she had already netted $5 million to her name.
She started as a toddler, playing the younger version of Dakota in I am Sam, but she went on to play in films like Phoebe in Wonderland, and the latest, Maleficent. Her parents are Heather Joy and Steven J. Fanning, both of whom were sports personalities. At just four years of age, she won her first role away from her big sister's shadow while acting in the comedy Daddy Day Care. Elle drives a white Audi SQ5 but has also been spotted in a black Range Rover and a blue Porsche Cayenne.
8

Allen Wong
While so many people are trying to launch the next great app for the iPhone/iPad platform, or even Android, some rich youngun developed one which was an instant success, leaving other developers' tongues wagging. Apparently, there are over 750k+ apps available for download, but Allen Wong did something that his counterparts didn't. This successful developer didn't always have life easy. His folks were born in Hong Kong and China slums and were so poor, but they hustled and took Allen through public school where he studied hard so he wouldn't disappoint them. He majored in computer science and computer engineering while spending his leisure time creating and selling computer programs and developing websites. After his dad's death, he worked at Columbia University at a time when the iPhone app store was accepting new apps. One thing led to another, and he sold an app for $30 million, out of which he bought a Lamborghini Aventador, making him the youngest guy to own one.
7

Justin Combs
This kid was born into wealth and a lifestyle many can only dream of. Justin is the son of Sean P.Diddy Combs, an American rapper, singer, actor, songwriter, record producer, and entrepreneur. Diddy is the founder of Bad Boy Records, which he started in 1993, and today, it operates as an imprint of Epic Records (Sony Music Entertainment). His net worth by 2017 was at $820 million.
Justin turned 21, and boy, does his daddy love him. He held a huge star-studded party with celebs like Justin Bieber, DJ MC Branden King, Khloe Kardashian, Kendall Jenner, Mase, French Montana, and daddy dearest–Puff Daddy.
Diddy loves this young man so much that for his Sweet Sixteen, he got a Maybach for Justin, and as if that wasn't enough, at 17 years of age, he got yet another Maybach. His mom even went further and got him a BMW as his daily driver. Money ain't a thing!
6

Jaden Smith
This Karate Kid star began his acting career alongside his dad in the movie The Pursuit of Happiness. He's the firstborn son to Will Smith and Jada Pinkett, though there's a step bro called "Trey Smith" from a different mother. Jaden's fashion sense may not be your cup of tea, but his car is one for marveling at. By 16 years, he had already done a decade in the film industry, plus his net worth was at $8 million—a little bit more than little sister Willow. But when it comes to cars, this guy doesn't go for the ordinary. The 17-year-old bought a Tesla Model X for $130,000, but the crazy part is this car hasn't even been released yet–technically–but its makers say it'll be the greenest way to travel.
5

Barron Hilton
This kid was born into a crazy rich family, the Hiltons, known for their famous Hilton hotels brand, which makes him Paris Hilton's baby bro. Well, he grew into a fine young man and is soon to get married any time this year to socialite Tessa Gräfin von Walderdorff. The 27-year-old apparently got his car as a reward for getting his license back after he was busted in 2008 for driving under the influence. Who does that?
So, the DUI gift he got from his dad is a black 2010 Mercedes E550 Coupe worth $60,000.
His license had been yanked from him after he pled no contest in the Malibu DUI, where he had allegedly hit an employee of a gas station with his car. He had to go to the DMV to retake his road test, and he passed!
4

Nick Lam
Nicholas Lam is on this list for all the right reasons: he's young, rich, and deals in luxury rides. This 25-year-old is the co-founder and CEO of New York Auto Depot, which helps rich Chinese college students find and buy ultra-luxury cars and/or supercars. He connects the rich clients with the perfect luxury cars, as most of them don't know what cars they're talking about or how they function, so he helps them find a great car at a good price because their negotiation skills are also not as good, making them go to him. He's built his little empire selling new and used luxury cars to Chinese students and has since cultivated a regular customer base at nineteen universities, though he keeps reaching out to more of them through events and ads on social media. His personal car is a 2012 Mercedes SLS.
3

Dorothy Wang
This chick also starred in the hit E! show The Rich Kids of Beverly Hills and is a daughter of Roger Wang, one of the most successful businessmen worldwide, Chairman of Golden Eagle Retail Group Limited, and with a net worth of $4 billion. Dorothy is not fully dependent on her dad's wealth, as she's a designer, entrepreneur, and actress, and her worth is about $10 million, according to Heavy. She has a jewelry line and a Crazy Birkin collection. She drives a silver Mercedes G Wagon, which she shared on social media, where she said that she had just picked it up after having spent some time at Platinum Motorsport. She may not have earned all her money solo, but her folks were savvy enough to instill some good lessons and money instincts in her, which are evident in her being able to take her millions and turn them into a truly fabulous luxe lifestyle.
2

E.J. Johnson
There's so much to say about Earvin J. Johnson, from his fashion sense to his height to his lavish lifestyle, but we'll spare you the long story and briefly share the juice about his wealth and, most importantly, what he drives. He's the son of former NBA star turned entrepreneur, Earvin Magic Johnson and Earlitha Kelly. He's also starred in The Rich Kids of Beverly Hills reality-TV show and is known for his flashy style, especially for what he's wearing and his purses. This kid grew up with so much money and has an eye for the finer things in life. His close buds include Gaia Matisse, Tiffany Trump, and others from the TV show. EJ drives a white Mercedes G63 Wagon.